Diana Howes' Norfolk snowman collection 'snowballed'
By Martin Barber
BBC News, Norfolk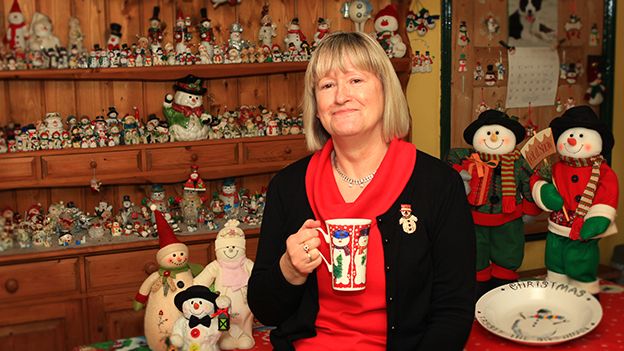 A farmer in Norfolk with a collection of more than 1,000 snowmen has admitted her "mad" love of the decorations has "snowballed" over the past 25 years.
Diana Howes, 57, of Honing near North Walsham, started the collection with a biscuit jar bought as a Christmas gift.
Mrs Howes said the hoard now includes snowmen from around the world and is worth thousands of pounds.
She added: "I'm encouraged to do it as people buy them for me. They are just happy little fellas."
The collection features snowmen as crockery, candles, cake decorations, cuddly toys and coasters. They stand between 2in (5cm) and 3.5 ft (1.1m) tall and "live" throughout the Howes' farmhouse.
The original snowman biscuit jar, standing about 12in (30cm) tall, was bought as a replacement gift.
"I think the first snowman is my favourite as he's the one I shouldn't have had," said Mrs Howes.
"My husband bought me a different present, but it was a cookie jar I'd already got - so I took it back and exchanged it for the jolly snowman that was now in the sale.
"He stood on my dresser, then the next year I got more snowmen and it sort of snowballed."
The army of snowmen only comes out at Christmas.
Mrs Howes' husband David joked he hears a "rustling" around November as their adopted snow family "escape from the bedroom" and begin to appear overnight on the stairs.
"You just get used to it I suppose, anything to keep the good lady quiet," said David Howes.
The snowmen all hold memories for the Howes', including the most expensive that was bought as a 20th wedding anniversary gift.
"It's an Estee Lauder one with a perfume inside it and I think he was £50," said Mrs Howes.
"He's absolutely gorgeous, sparkles away and it is also quite unusual as there aren't many nowadays that you see smoking a pipe like they used to years ago."
Despite her love of snowmen, Mrs Howes admits she is no fan of The Snowman animated film based on Raymond Briggs' characters and will not be seen building any of the snow variety.
"No, I don't like the cold. I sooner sit in front of the wood burner and watch the snow come down," she said.
Related Internet Links
The BBC is not responsible for the content of external sites.