Norwich woman, 86, in three-hour wait for ambulance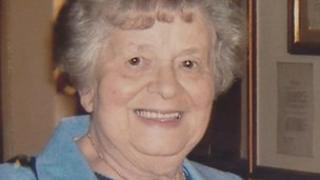 An 86-year-old woman had to wait almost three hours for an ambulance after falling and breaking her leg on the pavement outside her home in Norfolk.
Daphne Shaw slipped on the pavement as she was getting into a car outside her home in Thorpe St Andrew, Norwich.
A friend phoned 999 and was told an ambulance would be on its way, but it took nearly three hours to arrive.
The East of England Ambulance Service (EEAS) said its crews had been delayed at hospitals in the area.
'In the gutter'
During the wait, neighbours covered Mrs Shaw with blankets to keep her warm.
Friend Jim Tate, 90, who was with her when she fell, said: "It was an emergency. An elderly person exposed in the gutter on a public road. I thought [the wait] was scandalous."
Mrs Shaw was taken to the Norfolk and Norwich University Hospital where surgeons pinned her thigh bone.
Speaking from her hospital bed, Mrs Shaw said: "Every now and then you heard an ambulance in the distance and every time I thought 'oh, that's coming', then it disappeared."
An EEAS spokesperson said: "We do our best to get to patients within the necessary time frame, but a number of our crews were diverted away from the incident because of more life-threatening incidents occurring."