Dereham's Pact animal charity shop destroyed by fire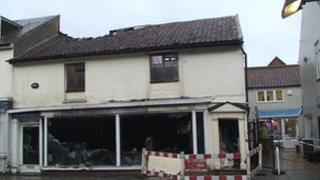 An animal charity shop in the centre of a Norfolk town has been destroyed by fire.
Crews were called out on Thursday night to the Pact shop in Norwich Street, Dereham.
The road was closed for several hours as firefighters fought to bring the fire under control, preventing it from spreading to nearby buildings.
Co-founder of the charity George Rockingham said about £12,000 of stock had been lost.
"The place is gutted, absolutely gutted," Mr Rockingham said.
"The front is all burnt and the smoke damage will have totally ruined everything."
An investigation is under way into the cause of the fire.
Pact has five charity shops in Norfolk.