Sledgehammer gang raid Aylsham bank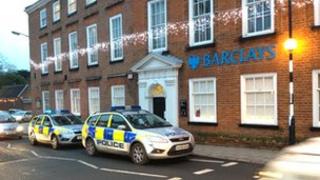 An armed gang brandishing a sledgehammer assaulted a member of staff in an attempt to rob a Barclays Bank in Norfolk.
Police said three to four men forced their way into the secure area of the bank in Aylsham at 14:20 GMT.
They demanded money but are thought to have been unsuccessful and fled.
A car fire has subsequently been reported at Hungate Street and officers are seeking to establish if this is linked to the robbery.
Anyone who witnessed the incident or has information concerning it should contact Norfolk Police.