Heacham carer's thefts from elderly caught on camera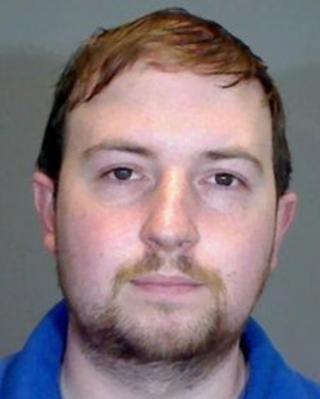 A carer who stole from five elderly people in Norfolk was caught in the act when police set up hidden cameras and "planted" cash, a court has heard.
Luke Walden, 26, of Heacham, was filmed taking money at an 86-year-old woman's home, Norwich Crown Court heard.
He was addicted to gambling and stole as a "compulsion", even when he knew suspicions had been roused.
Walden had admitted 11 thefts at an earlier magistrates' hearing and was jailed for two years.
Lori Tucker, prosecuting, said Walden, of Dewdrop Close, had taken about £800 while working for a home care company.
He sold for scrap stolen necklaces and rings which had a sentimental value, then gambled the proceeds away or spent it on football shirts, meals out and hotel stays with his girlfriend, she said.
Victim 'panicked'
Suspicions were roused when victims or their families noticed money had gone missing.
The court heard that a 76-year-old man placed money in a drawer as a "trap", with Walden subsequently taking £20, as well as rings and a necklace.
During another theft, an 87-year-old victim spotted him searching through her handbag in the living room as she took the stairlift upstairs.
He also stole from a 92-year-old woman and from a man with memory problems who "panicked" when he found he had less money than he thought.
The court heard the daughter of the 86-year-old went to police after a gold necklace disappeared and £140 went missing from a jug.
"Police installed a covert camera," said Ms Tucker.
"After police visited, [the victim] placed two £10 notes in her purse.
"One of the £10 notes then went missing, when the only other person who had been in the property was the defendant.
"On the same day police installed the camera, 28 June, he was caught on camera removing two £10 notes from the jug."
'Need support'
When arrested, he claimed his victim had given him the money as a gift, but backed down when shown the footage, Ms Tucker said.
Jonathan Masters, for the defendant, asked the judge to consider a suspended sentence because Walden had given up gambling and had a two-week-old son.
He said Walden felt compelled to steal and knew a "trap" had been laid when he stole from the drawer.
Judge Mark Lucraft said: "This was the most serious breach of trust of extremely vulnerable people who need care and support from people they can trust."