Keith Johnson phoned friends after shooting wife Andrea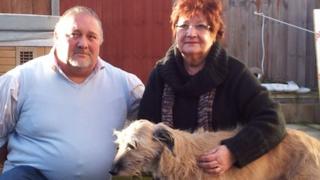 A Norfolk council leader who shot his wife dead telephoned friends moments before turning the gun on himself.
Keith Johnson called close friends Jean and Leslie Amis shortly after shooting his wife Andrea in Cromer on Sunday.
Mr Johnson, leader of North Norfolk District Council, asked them to collect the couple's dog and call the police.
Mrs Amis, 71, said: "He was so agitated. I knew something had happened; I could tell by the tone of his voice. It wasn't Keith."
Police were called to the Johnsons' bungalow at Compit Hills, a cul-de-sac on the edge of Cromer, at about 14:50 GMT on Sunday.
'Phone the police'
They found Mrs Johnson, 44, dead in the garden of number 41.
Mr Johnson, 58, was dead in the garden of their home, number 39.
Next to him was a shotgun, one of four licensed to his wife, who had used them for clay pigeon shooting.
Police said Mr Johnson shot his wife and then himself, and have said they are not looking for anyone else in connection with the deaths.
Shortly before killing himself, Mr Johnson, Conservative leader of the council, telephoned Mrs Amis, asking that her husband fetch Alfred, the Johnsons' eight-year-old Lurcher.
"Keith phoned me Sunday afternoon and said, 'Is Les there?' and I said, 'Yeah, I'll get him,'" said Mrs Amis.
"He said, 'Tell him to come and fetch Alfred and phone the police.'
"I went through to Les who was decorating. I said, 'Get going. You get up there.'
"I said, 'What do I say to the police?' and Les said 'Just leave it till I get up there and I'll see.'
"Keith was alive then, but in the time of Les leaving here and getting to Compit Hills, he wasn't."
Mr Amis, 56, said: "I just put my shirt and my Crocs on and shot up there straight away.
"There was no reply at the door. I had no idea what had happened.
"I looked in at the window but there was nothing amiss. Then I heard what I thought was a police car, but it was an ambulance."
Mr Amis said he then saw a neighbour attempting to resuscitate Mrs Johnson before paramedics took over.
'Jean, she's gone'
He said armed police arrived soon after and evacuated the area.
He drove back to his house about half a mile away, bringing one of the Johnsons' neighbours back with him, who was very shaken.
Mrs Amis said she was concerned about Mrs Johnson, but her husband wouldn't let her go to the bungalow.
"I said, 'I need to get up there - she's my friend.' And he said 'Jean, she's gone'."
Mr and Mrs Amis, who run a funeral business, had been close friends with the Johnsons for about 15 years.
The couples visited each other's houses frequently and went on holiday together.
"They were a lovely couple: a bit flamboyant, but that was Keith, and Andrea would always follow Keith and back him up," said Mrs Amis.
"They had a good time and loved life. They were sensitive; very caring."
On Thursday evening, Mr and Mrs Johnson, who got married in 2004 and had no children together, spent the evening at Mr and Mrs Amis' home.
Mrs Amis said: "We all went in the hot tub out there because Andrea loved to look at the stars and Les liked to, so we all sat out there and laughed and were looking at the stars.
"They were fine, OK, happy. We were chatting about anything and everything."
Mr Amis said he saw Mr Johnson again on Saturday morning as Mr Johnson was delivering newspapers, but there was no indication anything was wrong.
Mr Johnson, a Norwich City season ticket-holder, had been due to attend his club's home match against Sunderland on Sunday afternoon.
Mrs Amis said she was baffled by Sunday's tragic events.
"My mind keeps going over and over and I just can't understand it," she said.
"Nobody will know. It doesn't make sense."