Council leader Keith Johnson 'shot wife then himself'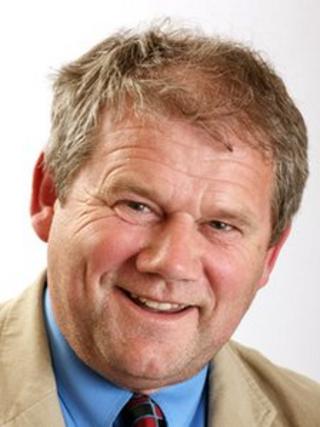 A council leader shot his wife dead before turning the gun on himself, police have said.
Keith Johnson, leader of North Norfolk District Council, and his wife Andrea were found dead at Compit Hills, Cromer, on Sunday afternoon.
Police had been called to the cul-de-sac after "concerns were raised for the safety of a resident".
Detectives are not looking for anyone else in connection with the deaths of Mr and Mrs Johnson.
Police found the body of Mrs Johnson, 44, in the front garden of a bungalow and Mr Johnson, 58, dead in a back garden nearby.
'A lovely couple'
Det Ch Insp Andy Guy said: "While investigations continue into the full circumstances surrounding the couple's deaths, at the moment it is thought that two shots were fired.
"We believe the first shot led to the death of the woman followed by the second shot, which led to the death of the man."
Police confirmed both appeared to have died from bullet wounds and that a firearm had been recovered from the scene.
David Stow, who lives nearby, said he heard a single gunshot on Sunday.
"We're in the country so we hear a lot of gunshots and at first I didn't think anything of it," he said.
"But then I saw the police arrive and realised it must be something serious. I knew them to speak to and they always seemed a very nice couple."
It is understood the couple did not have children but Mr Johnson had a family from a previous marriage.
They had been together for 18 years and married in 2004.
'Tragically taken'
Mr Johnson retired in 2011 after working in local government, and was a football referee for many years.
Mrs Johnson had worked at Cromer's Homebase store since it opened four years ago.
Her family said they were "devastated" by the loss of their "wonderful daughter, aunt and sister".
In a statement they said: "She was so bubbly and full of life, she adored her family and has been tragically taken from us. She will be very sorely missed.
"Please leave us to grieve in peace at this sad time."
Derek Houlston, whose garden backs on to the couple's home, said: "She was bubbly and really friendly. We used to see her walking her dog.
"He was always very friendly, too, but we saw him doing his paper round - which she got him to do to keep fit - on Saturday and he seemed really depressed.
"I said hello but he just kept his head down and didn't respond.
"It's really sad because they seemed like such a lovely couple."
Mr Johnson, a former mayor of Cromer, became Conservative leader of North Norfolk District Council in May and was also a town councillor.
The flag was flying at half-mast at Cromer Town Council's offices at North Lodge.
Trevor Ivory, a Conservative member of the district council's cabinet and a friend of the couple, said: "It's a complete shock. I last saw them both on Thursday evening and they were both very happy and seemed to be enjoying life.
"The words Cromer and Keith Johnson are synonymous. He typified what's good about the town and the district of North Norfolk."
Norman Lamb, care minister and Liberal Democrat MP for North Norfolk, said he was "utterly shocked and stunned" by the deaths of the couple.
"I knew them both reasonably well," he said.
"I always got on very well with Keith. We're from different parties but he was always very good to deal with.
"He was a good public servant. It's just an utterly shocking loss."
In a statement, North Norfolk Labour Party paid tribute to Mr Johnson.
Chairwoman Denise Burke said: "The death of Keith is a tragedy and a massive loss to Cromer and North Norfolk, too.
"Keith has been a real public servant throughout his life and will be sorely missed by the whole community. He was much respected across the political spectrum."
Police said post-mortem examinations on the couple were taking place and the Joint Norfolk and Suffolk Major Investigation Team was continuing to investigate.