RAF Coltishall: Norfolk County Council proposes £1m investment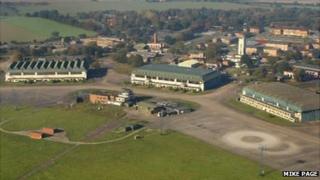 A plan to commit £1m of public money to help turn a disused Norfolk airbase into a business park could be approved.
Conservative-run Norfolk County Council wants to buy the RAF Coltishall site for an undisclosed fee and the extra £1m would be spent on infrastructure.
Liberal Democrats have been critical of investing during an economic downturn.
The Ministry of Justice (MoJ) is selling the part of the site not occupied by its new prison and the council is the preferred bidder.
The RAF base north of Norwich closed in 2006 and the sex offenders prison HMP Bure opened on the site in 2009.
The council said it was still negotiating over the sale of the remainder of the 600 acre (240 hectare) base.
'Business gamble'
The council said it would only disclose the price once the purchase had been completed, but a rival private firm's bid of £4.1m was not being taken forward.
The extra £1m would be spent on contamination surveys, access roads, RAF visitor attractions and community woodland.
Councillor Mike Brindle from the Liberal Democrat group said: "It's a gamble to bring in business when we're in an economic crisis.
"They could be spending anything up to £10m on this and they should be spending it on frontline services.
"They won't get a return for years, so why buy it now?"
Councillor Ann Steward, cabinet member for economic development, said: "I am clear that seeking an instant overnight return on it is neither sensible or desirable.
"However, I am convinced that it can become a real strategic asset for the Norfolk economy and that, over time, we can ensure it generates a combined income for the council and generate jobs."
The council's cabinet votes on the £1m investment on Monday.