Boxer Herbie Hide's assault fines paid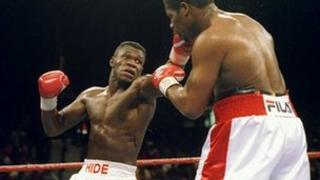 Fines owed by former world boxing champion Herbie Hide - which led to a warrant for his arrest being issued - have been paid, magistrates have said.
Hide, 41, of Bawburgh, near Norwich, was ordered to pay a total of £1,515 at Norwich Crown Court in June 2011 after being convicted of assault.
In September a warrant was issued to bring the ex-world heavyweight back to court as nothing had been reimbursed.
Magistrates had heard Hide could not pay as he had struggled to find work.
After the assault last year, Hide was ordered to pay £1,000 compensation to his victim, a £350 fine, £150 costs and £15 to funds in support of victims of crime.
'I'm not fighting'
The boxer previously told Norwich Magistrates' Court he could not pay the money as he could not find work, had a bad back and was unable to claim Jobseekers' Allowance.
He said: "I am a boxer, my work is fighting and I'm trying to get a big fight... but I can't sign on and I'm not fighting."
Hide also said he thought the amount he was ordered to pay was "a little bit too much" and he had been told to plead guilty to assault by his lawyer.
Magistrates told him they could do nothing about the conviction or the level of fine and advised him to seek legal advice.
Hide held the World Boxing Organisation version of the heavyweight title twice, including a two-year reign from 1997 to 1999.