Norwich Castle Museum set to acquire 'curious' treasure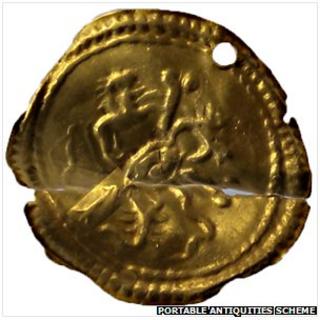 A gold earring disc, found in Norfolk by a metal detector enthusiast, has left treasure experts baffled as to the exact meaning of its decoration.
Discovered in Keswick, near Norwich, the disc "is an unusual find for the Roman period", said a Norwich Castle Museum spokesman.
It features a scorpion, phallus, snake and crab, but the meaning of the combination "is lost" an expert said.
The Norwich museum hopes to acquire the disc for its collection.
The value of the item will now be determined by experts at the British Museum.
Erica Darch, from Norfolk Historic Environment Services and the Portable Antiquities Scheme (PAS), said: "The thin sheet and repousse decoration [a technique used in metal work to decorate the surface of an object] resemble modern pressed sheet objects, but as I looked more closely it was obvious it was Roman.
"The exact significance of this combination of symbols is lost to us now although they are individually familiar.
"Phalli are fairly common as decorative motifs on Roman artefacts and are associated with good luck.
"This find almost certainly represents an accidental loss and it is easy to imagine the annoyance of the wealthy Roman woman who owned it when she realised it was missing."
Objects which may qualify as treasure must be reported to the coroner under the Treasure Act (1996).
An inquest by Norfolk coroner William Armstrong also pronounced a copper alloy and gold penannular ring from the late Bronze Age as treasure.
Dr Tim Pestell, senior curator of archaeology at Norwich Castle Museum, said: "They are more popularly known as ring money.
"They weren't used as currency, but almost certainly as personal adornments with one theory being they were worn in the hair.
"We've got a number of them in the castle collection already, but we felt because it's Bronze Age and gold we'd like to acquire it for the collection to show people."
It was found by Tony Beal in Thompson, near Watton. He said: "It could be worth up to £1,000. There's only three been found in Norfolk."
Ms Darch from the PAS added: "The complex construction of the pannanular ring demonstrates the skill and sophistication of metal working in the Bronze Age.
"These objects are an important and interesting part of the archaeological record and they demonstrate the wide variety of archaeological artefacts reported in the county."