Attacks on Norfolk prison staff revealed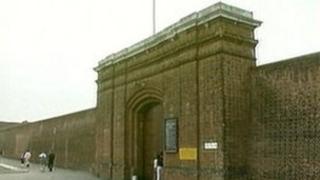 A prison officer was scalded on the face when a kettle of boiling water was thrown at him by an inmate at a Norfolk jail, a BBC investigation has found.
It was one of 21 staff injury assault reports at Norfolk prisons between January 2011 and October 2012, a Freedom of Information request found.
In another incident, a 21-year-old female officer at HMP Wayland was knocked out by an inmate.
She hit her head on the concrete floor and suffered concussion.
Records gained by the FOI request to the Health and Safety Executive (HSE) show the original reports of injuries to prison officers at HMP Norwich, HMP Bure and HMP Wayland.
These only cover injuries where an officer is off work for more than three days and do not include attacks by prisoners on fellow inmates.
The incidents recorded include:
HMP Wayland: Male officer, aged 56, was assaulted by a prisoner in the segregation unit. It was an unprovoked attack in which he was punched repeatedly and knocked unconscious. He was taken to hospital and the prison described it as a "major injury".
HMP Norwich: Male prison officer was punched in the face several times by a prisoner in the exercise yard. He sustained fractures to the face. He did not remain in hospital for more than 24 hours, but was off work for more than seven days.
HMP Norwich: Two male officers were assaulted while restraining a violent prisoner in the segregation unit. One officer was bitten on his left arm and head, the other was bitten on his right shoulder and chest. They were both absent from work for three days.
HMP Wayland: A 36-year-old male officer was scalded on his face when a kettle of boiling water was thrown at him by an inmate. He had not yet returned to work when the injury form was submitted in August 2011.
A spokesman for the Ministry of Justice (MoJ) said: "The safety and security of staff and prisoners is of paramount importance.
"We have a zero tolerance approach to anyone who is violent in our prisons - be it against prisoners, staff or visitors."
Figures from the MoJ show the number of assaults in UK prisons increased by 3% in the last year and assaults on prison officers rose by 5%. Attacks on staff accounted for one in five of all violent incidents.
Records from Norwich prison show that over an 18-month period there were 15 officer injuries caused by assaults by prisoners, breaking up fights or restraining inmates.
In 13 of these cases their injuries led to more than three days absence from work. In one case two staff were attacked in the same incident.
In Wayland prison there were five incidents reported and in Bure, one.
The injuries range from loss of consciousness, fractured fingers, broken ribs, fractures to the face, whiplash and a slipped disc. Officers were also bitten, kicked, punched and head butted.