Sebastien Bassong of Norwich City fined for baton possession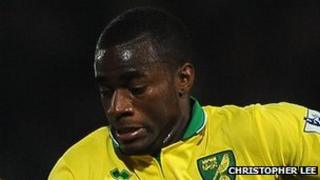 A Norwich City player has been fined for carrying a police-style baton in his car.
Defender Sebastien Bassong, 26, was stopped by police near King's Cross in London on 27 September.
At Highbury Corner Magistrates' Court in London on Monday, Bassong admitted possessing an offensive weapon.
He was fined £1,000 and ordered to pay a victim surcharge of £100 and costs of £85.
The court ordered that the baton be forfeited and destroyed.
Bassong, a French-born Cameroonian international, signed for Norwich City in August for an undisclosed fee and has made 10 appearances for the club.
A spokeswoman for Norwich City declined to comment.