Cambridgeshire barrier crash man jailed for "terrifying driving"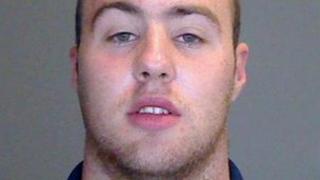 A 22-year-old man who drove at 115mph on the wrong side of a Cambridgeshire road has been jailed for 22 months.
Ricky McGrath, of Wisbech, was pursued by police for 10 miles along the A47 in July. Two months later he crashed a car into a level crossing barrier.
Norwich Crown Court heard that on the second occasion he dived from the car, letting it roll across a rail line and into the barrier as a train sat nearby.
McGrath, who fled an earlier court hearing, admitted all offences.
He was charged with dangerous driving, aggravated vehicle taking, endangering rail passengers and escaping custody.
Nick Methold, prosecuting, said McGrath, of Wistaria Road, was followed by police on the A47 on 27 July.
The court heard he drove through Thorney Toll at 108mph.
Police stinger
Mr Methold said McGrath drove on the wrong side of the single carriageway, overtaking a line of traffic and forcing oncoming heavy traffic to swerve to the left.
"There's a garage - Brecks Transport - he went past that at 115mph," he said.
"Most traffic was travelling at 40mph because traffic was heavy.
"He drove through Guyhirn on the wrong side of the road, and did 80mph in a 40 limit, and further along the A47 overtook a long line of traffic at 90mph."
He was arrested when police used a stinger to puncture his tyres.
The court heard that on 30 September, McGrath drove at 70mph in Tilney St Lawrence and Magdalen, west Norfolk.
Mr Methold said: "He got out of the Audi when it was still going.
"It went through the first set of [level-crossing] barriers and nearly the second set of barriers when there was a train at the [Watlington] station."
He escaped from King's Lynn Magistrates' Court dock on 1 October and was arrested a week later in a car on the A17 in Lincolnshire, the court heard.
'Terrifying driving'
Andrew Cogan, in mitigation, said McGrath was due credit for pleading guilty.
The court heard McGrath had 16 previous convictions.
Judge Stephen Holt said it was a miracle no one was hurt or killed during the "terrifying driving".
McGrath was jailed for four months for escaping custody, nine months for dangerous driving and a further nine months for aggravated vehicle taking.
He was sentenced to nine months, to run concurrently, for endangering rail passengers.
He was also banned from driving for three years and ordered to pay a £100 surcharge.