North Norfolk Railway: Sheringham signal box returns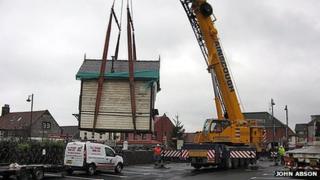 A 106-year-old railway signal box has been returned to a Norfolk level crossing, 40 years after volunteers removed it to ensure its survival.
The box was moved from the Sheringham crossing in 1972, following the closure of the station by British Rail.
A spokesman for North Norfolk Railway (NNR), which now owns the site, said it had been returned for "operational" and "heritage" reasons.
To reconnect and fully restore the signal box will cost about £15,000.
Trevor Eady, general manager of NNR, said: "It was logical to put it back for operational reasons as there's an opportunity to use the box for operating some of the equipment to do with the crossing.
"From a heritage point of view we were being pushed to place the box back where it used to be and we had a volunteer who was keen to put up some of the money to make it happen."
The railway came to Sheringham in 1887 as part of the Midland and Great Northern Line (M&GN) from Norwich through Sheringham and on to the Midlands. Locally it was known as the "Muddle and Go Nowhere Line".
The line was closed by Dr Beeching in the early 1960s and British Rail closed Sheringham Station in due course. The NNR took over the site in 1967.
A spokesman said he thought the signal box was originally moved because, with the closure of the line, the level crossing was no longer required.
For 40 years the signal box was stored on the NNR's platform two at Sheringham.
"It's now got to be reconnected and now it's in such a prominent position it needs to be looking the part," said Mr Eady.
"We need to make sure it enhances Sheringham rather than looking like it's been there for 106 years."
He added: "Now the signal box has been moved we're looking to redevelop the platform and start to raise funds to put a new canopy over the area."