RAF Marham squadron returns from Afghanistan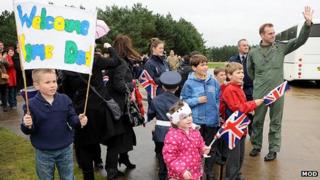 More than 100 military personnel have returned to RAF Marham in Norfolk after completing a four-month deployment to Afghanistan.
Tornados from II Squadron supported British and coalition forces in Operation Herrick, providing enemy intelligence and reconnaissance.
Station commander Gp Capt David Cooper said he was "extremely proud".
He added: "They've had a very hard four months, but to see them come back to Marham is a very proud moment for me."
The deployment, which began in July, followed a six-month operation over Libya last year.
On arriving back in Norfolk on Tuesday, Flt Lt Nick Gogley said the 136-strong squadron "had both an enjoyable and successful detachment".
Wing Cdr Nick Tucker-Lowe added: "We've conducted hundreds of missions supporting UK troops, our coalition partners and Afghans alike.
"There's a real feeling of teamwork there and that's a feeling I think is expanding across Afghanistan in many, many, respects."
Sgt Chris Everett was greeted by his six-year-old son Kieran wearing his own number one uniform.
"It's great to see everyone again, I'm well excited - it's so good to be back with the family again," he said.
The air and ground crews of Marham's number IX Squadron now take over as part of the multi-national force in Kandahar.