Henry Blogg's historic Cromer fishing boat in danger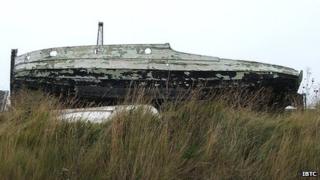 A fishing boat that once belonged to one of Norfolk's most famous lifeboatmen could be destroyed if a new home for it cannot be found.
The QJ and J, thought the last boat of her kind, was owned by Henry Blogg.
Stored at a Lowestoft college for the last five years, the space for the boat is now required for redevelopment.
A spokesman for Cromer Town Council, custodians of the historic craft, said: "If we can't find a home for it, who knows what will happen to it."
A fisherman by trade, Henry Blogg was the RNLI's most decorated lifeboatman during his years of service in Cromer. QJ and J was named after family members.
Cromer Town councillor Greg Hayman said: "The boat yard needs the space and they said to us we've got to come and collect it or they'll break it up.
"Clearly we don't want something as historically important to Cromer and the region to be made into firewood so we are looking for a home for it, preferably for free, for the time being."
The boat has been stored at the International Boatbuilding Training College (IBTC) for the last five years.
IBTC owner Nat Wilson said: "We took Queenie, Jim and Jack on with a view to doing a museum restoration on her. Funding for that fell through, so we have been storing her free of charge since.
"It is not our intention to break her up. We can find an alternative space for a few months, but this is only a temporary solution."
Mr Hayman said: "It's an ordinary crab boat, but because is was Henry Blogg's family boat it's imbued with history.
"I think it would be such a shame if we didn't find somewhere for it and get it put on public display."
The cost of restoring her to museum condition is about £30,000.