James Joyce, Lib Dem PCC candidate, failed to declare interest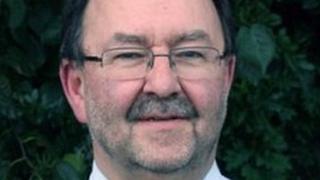 A Norfolk police and crime commissioner candidate and councillor failed to declare an interest in a planning application, it has emerged.
Liberal Democrat James Joyce did not disclose that a man applying to build a travellers' pitch was doing building work on his own home in Wood Dalling.
Broadland District Council concluded Mr Joyce had breached its code of conduct.
Mr Joyce, who admitted the breach, said it had been an honest mistake and that he had not deliberately misled anybody.
The council's standards hearings sub-committee dealt with the complaint against Mr Joyce, who represents Eynesford ward, in September 2011.
It heard that at a planning meeting in July 2011, Mr Joyce had spoken in support of an application for a permanent travellers' pitch in Wood Dalling, but failed to declare that the applicant was undertaking building work on his property in the village.
In its report, published in December 2011, the sub-committee found Mr Joyce failed to declare "personal and prejudicial interests in respect of his acquaintance and employment of Mr Van Emmerick."
It accepted that Mr Joyce had apologised for failing to declare the interest, and accepted his assurance that there was no deliberate attempt to mislead.
'A slip'
It noted that Mr Joyce was not a member of the planning committee but was attending in a representational role.
No further action was taken, but the council's monitoring officer was asked to "remind Mr Joyce of his obligations under the code of conduct".
When approached by the BBC, Mr Joyce, who is also a member of Norfolk County Council, said: "There certainly was not any deliberate attempt to mislead.
"I hadn't actually put the two together. I probably should have said the person had actually done some work on a property I owned.
"It was a slip."
On Tuesday the BBC revealed that, according to council papers, Labour's candidate in the Norfolk PCC elections had not declared an interest in a charity when he was leader of Norwich City Council.
Steve Morphew was at a council cabinet meeting in March 2011 at which Voluntary Norfolk was awarded a £36,000 grant.
He had been working for the charity as a freelance human resources consultant.
But he said he had declared an interest, and that it must have been incorrectly recorded in the minutes of the meeting.
"I am writing to the council about this to have it checked and corrected as I am sure it is incorrect and I don't want the record to show something that calls my integrity into question," he said.