Ex-BBC Radio Norfolk man Michael Souter faces child sex charges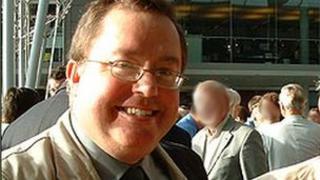 An ex-BBC employee has been charged with 18 sexual offences on boys over the 20-year period 1979 to 1999.
Michael Souter, 59, of Low Bungay Road, Loddon, Norfolk, has been charged with 18 offences related to boys, plus an offence against a man and a woman.
Mr Souter, a former presenter for BBC Radio Norfolk, is due before Norwich Magistrates' Court on 30 November.
The alleged offences happened in Norfolk, police said. Mr Souter denied the charges in a statement.
Norfolk Constabulary said Mr Souter was accused of 10 indecent assaults on a boy under the age of 16 and six sex offences with a boy under 16.
'Strenuously deny charges'
He is also charged with indecently assaulting a man aged 16 or over, two counts of gross indecency with a boy under the age of 14 and one count of indecent assault on a woman over the age of 16.
Alleged offences relate to six child victims aged between 11 and 15, police said. No ages were given for the man and woman.
The BBC said it could not comment as it was a police matter.
Mr Souter issued a statement and said: "This is the third time that Norfolk Police have investigated these alleged offences, which I strenuously deny and will vigorously defend."
On his website, Mr Souter described himself as a producer and presenter who had worked in both commercial and BBC radio since the mid-1970s.
It said he worked as a freelance broadcaster and had run a media relations consultancy since 1989.
Mr Souter was one of the original team recruited by BBC Radio Norfolk when it first opened in 1980, and presented a number of shows.
His website contains a long list of clients he has worked with as a media consultant, including well-known tourism venues in Norfolk, restaurants, theatres and Norwich City Football Club.