College of West Anglia to build £2.5m arts centre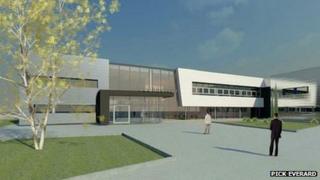 A Norfolk college is to build a £2.5m creative arts centre specialising in TV, film and performing arts.
The College of West Anglia, in King's Lynn, has been given a £1.75m grant from the government and will add £750,000 of its own funds.
It will refurbish a former sports centre to house the new facility, which will also offer workshops for crafts including ceramics.
Principal David Pomfret said: "We are delighted with the news."
He said the college was one of 56 nationwide to receive funding from the government's £110m Enhanced Renewal Grant scheme.
It will be the latest in a line of refurbishments at the college - a new technology centre has opened on the campus and a £12.5m project to refurbish a nine-storey tower block is due to finish next summer.