Eastern Airlines plea: Emissions regime too complex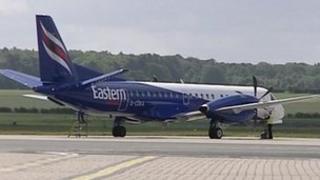 A regional airline wants a cut in the administration needed to comply with a European Directive on fuel emissions.
Norwich Airport-based Eastern Airways claims current procedures for precise fuel usage recording for the Emissions Trading Scheme (ETS) are too complex.
Airlines must buy carbon allowances, but collecting data on which they are calculated doubles the cost and is too much for smaller flyers like Eastern.
The EU said ETS was more cost effective than alternatives such as fuel taxes.
Eastern Airways, which operates scheduled services from Norwich Airport, has called on the UK government to review the ETS reporting process and procedures.
'Cost of compliance'
Chairman Bryan Huxford said the scheme was good in theory but "a disaster in practice".
"The scheme results in the cost of administration equalling or exceeding the cost of compliance for smaller airlines.
"Eastern Airways takes very seriously the need to minimise the impact of its flights on climate change.
"However, the ETS scheme for aviation is far from being in the interests of customers."
Mike Ambrose, director general of the European Regions Airline Association (ERA), said: "Forcing small airlines to adopt reporting procedures that demand a level of precision many dimensions different from the inexactness of climate change science is absurd.
"If the European Commission and European Parliament members had listened to the industry when the scheme was drafted, such a ridiculous situation would have been avoided.
'Wasteful red tape'
"Earlier this month, David Cameron urged the EU to cut its bureaucracy.
"If the UK government fails to act to cut through this wasteful red tape, it will be passengers who will continue to fund this needless bureaucracy," Mr Ambrose said.
The European Commission said bringing aviation into ETS was the most cost-efficient and environmentally effective option for controlling aviation emissions.
"It had undertaken a wide-ranging consultation before deciding this was the right approach.
"Compared with alternatives such as a fuel tax, including aviation in the EU ETS provides the same environmental benefit at a lower cost to society - or a higher environmental benefit for the same cost."
If emissions are lower, airlines can sell their surplus or bank them to cover future performance.
If emissions exceed allowances they can attempt to cut back or buy additional credits - whichever is cheaper.
"The existence of a market in which these allowances can be traded enables operators to manage their emissions cost-effectively," the EU said.