Syfer Technology China move threatens jobs in Norfolk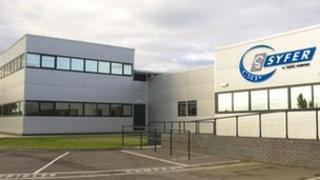 A high-tech electronics components company in Norfolk is planning to set up a manufacturing base in China, putting 120 jobs at risk.
Syfer Technology, of Arminghall, said exports, especially to the Far East, helped it expand and it wanted to be near markets and suppliers.
The firm was bought by American company Dover Corporation in 2000 and plans to move to its plant in Suzhou, China.
Unite the Union said it would fight to keep the jobs in Norfolk.
The planned move is to a site in the city in eastern China, on an industrial park set up as a joint venture by the governments of China and Singapore.
Specialist production, research and development and sales would remain at Arminghall where 100 people would still be employed.
The company said it was in negotiation with those staff affected by the plans.
'Profitable company'
The union has called on the company, which announced a £5m profit in its most recent set of accounts, to go back to the drawing board and consult with workforce representatives.
Regional officer Ivan Crane said: "Unite has met the company and made it clear that we would oppose this decision.
"Syfer is a profitable company we cannot see any reason why it needs to relocate this work."
Syfer managing director Howard Ingleson said most of its raw materials and sales came from the Far East.
"The opportunity of an existing Dover factory would also mean we could be up and running much quicker."
The company makes specially-coated energy-storing devices for high-tech equipment that prevent electricity flash problems.