John Dace told he can keep Norfolk Broads solar panels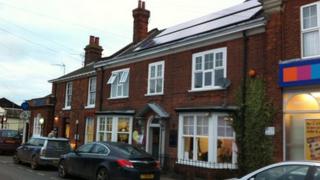 A Norfolk businessman has said "common sense prevailed" after a council allowed him to keep solar panels he installed without planning permission.
John Dace fitted the 16 solar panels on the roof of his business in Stalham High Street at the end of last year.
When North Norfolk District Council found out about the panels, planning officers recommended they be removed as the building is in a conservation area.
But on Thursday the council granted retrospective planning approval.
Mr Dace said he was "very relieved" about the development committee's decision, which was made after a site visit.
"I fell foul of the fact we're in a conservation area," he said.
"But in my defence I did make inquiries about the planning permission but the council seemed confused."
Mr Dace said he had gathered the names of 500 people who had offered their support for the solar panels.
He said the panels cost £12,000 and were installed as he is concerned by climate change.
"Common sense has prevailed and it's a relief we're not sleep walking into the abyss," he said.