Honour for 1953 flood rescue airman Reis Leming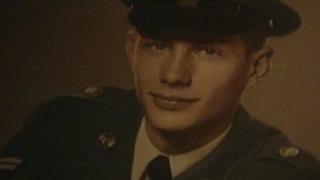 An American airman hailed a hero after rescuing 27 people from devastating floods that hit Norfolk in 1953 is set to receive a posthumous honour.
Reis Leming, who died at home in the United States on Monday, aged 81, was awarded a George Medal for his life-saving exploits in Hunstanton.
Mr Leming, then aged 22 and based at RAF Sculthorpe, saved people from their wrecked homes in January 1953.
A footpath in Hunstanton will be named after him at a ceremony on Saturday.
Mr Leming was due to return to the north Norfolk town to see the unveiling of Reis Leming Way.
But organisers said the ceremony, part of celebrations of the 60th anniversary of the US Air Force's 67th Air Rescue Squadron, would still go ahead.
The floods, generally acknowledged as the worst peacetime disaster to hit 20th Century Britain, claimed the lives of more than 300 people, including about 80 on the Norfolk coastline.
'Act of courage'
News cameras filmed Mr Leming after he had already spent eight hours in the water in his attempts to rescue people from the wreckage of destroyed homes in Hunstanton.
John Maiden, of Hunstanton Civic Society, paid tribute to Mr Leming's bravery.
"He heard people crying for help and wasted no time at all in donning an anti-exposure suit, grabbed a rubber life raft, and went in there and on three separate journeys rescued a total of 27 people," said Mr Maiden, who has helped organise Saturday's ceremony.
"Cometh the hour, cometh the man. Not many people would have ventured out in those conditions. It was a tremendous act of courage."
Airman from the Sculthorpe base also joined the rescue operation.
Mr Leming, who could not swim, eventually collapsed from exposure.
In a BBC interview in 1993, he said: "I just kept working my way down from house-to-house. I can kind of recall making six or seven trips back and forth."
Mr Leming, who was awarded the George Medal nine days after the floods for his bravery, returned to America a month later.