Willi Stewart, Loddon vicar, resigns after 'campaign focused on his past'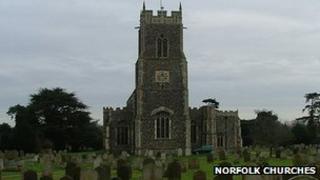 A Norfolk vicar has resigned after information about a past alleged offence was posted online.
The Rev William Stewart, rector of the Chet Valley Benefice, told his congregation of his decision on Sunday.
The Rt Rev Alan Winton, Bishop of Thetford, said Mr Stewart had left due to a "campaign focused on a matter from his past".
He said Mr Stewart had been appointed in good faith after a Criminal Records Bureau check came back clear.
Mr Stewart, 53, known as Willi, was appointed to his post, based in Loddon, in June 2011.
Originally from Northern Ireland, Mr Stewart worked in the Republic of Ireland for 30 years before moving to Norfolk with his family.
'Strain too much'
In a statement, Bishop Winton said: "In recent months he has been the subject of a campaign focused on a matter from his past.
"A number of parishioners have been supportive of him and his family but he has increasingly felt that under the present circumstances, he is no longer able to continue his ministry.
"In appointing William Stewart the diocese followed the normal procedure of seeking assurance from the Church of Ireland that he was a priest in good standing, and a CRB (Criminal Records Bureau) check was made and returned clear.
"On this basis he was offered the post of Rector of the Chet Valley Benefice in good faith.
"When information about William was posted on the internet, the diocese consulted Norfolk Police."
He said police advised that the matter was the responsibility of the diocese "to manage in accordance with its normal procedures".
Mr Stewart has made an "excellent start" in his new ministry, he added.
"However, as a result of the information published on the internet, he has increasingly found the strain on him and his family to be too much, and has tendered his resignation. We are continuing to support both William Stewart and his family, and the Benefice of the Chet Valley."
A Diocese of Norwich spokeswoman said Mr Stewart was "away".
He could not be contacted for comment.