Remembrance Day: Norwich Castle in red light tribute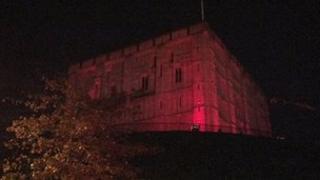 The walls of Norwich Castle were bathed in red light over the weekend in tribute to the armed forces as the city marked Remembrance Day.
The red lights were turned on as darkness fell on Saturday and Sunday nights.
The idea to light Norwich Castle to commemorate Remembrance Day was proposed by The Royal British Legion.
Last year Norfolk raised more than £638,000 towards the legion's annual Poppy Appeal.
'Powerful statement'
"We are extremely pleased and honoured that Norfolk County Council is supporting us with this high-profile project," said Bill Kerr, the Royal British Legion's Norfolk county chairman.
"We hope that turning the castle red for Remembrance Day will help us to bring home all the great needs of armed forces and veterans."
The Royal British Legion spends about £90m a year helping veterans. The target for the this year's Poppy Appeal is £42m.
Rachel Kirk, Norwich Castle manager, said: "Norwich Castle is an iconic building for the city and the county. Lighting it in this way will be a powerful statement of the community's support for our armed forces."