London Fashion Week: Runway shoot for Norwich student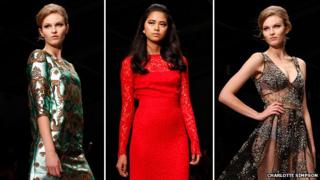 A student from Norfolk has beaten photographers from across the UK to win a coveted shoot at London Fashion Week 2013.
Charlotte Simpson, 20, from Huntingdon, had her work selected by Canon from more than 110 competing photographers.
Studying at Norwich University College of the Arts she said the experience was "brilliant" but "nerve-wracking".
The students were challenged to submit a winning portfolio of images from a live runway show within 30 minutes.
"As a student who wants to work in the fashion industry it was brilliant to be able to get this experience before I even graduate," said Ms Simpson.
'Just madness'
"It was really quite nerve-wracking. I had no experience of doing this type of shoot before but it seems to have gone well.
"We were given places in the photographer pits for the LFWeekend Trend Show and for Issa London where Canon set us a brief and a deadline to work towards.
"It was definitely a 'money can't buy' experience which I'm very grateful for. To have won the chance to shoot the big London Fashion Week is just madness."
London Fashion Week, showcasing the autumn/winter collections for 2013, takes places from 15-19 February.
Judge Frankie Jim said Ms Simpson's images "show strong composition, good timing and highlight the detail and style of the clothes which is exactly what a designer would look for.
"All the images are sharp, well exposed with the emphasis clearly on the clothes."