Norwich Cathedral: Light shines on monastic cloister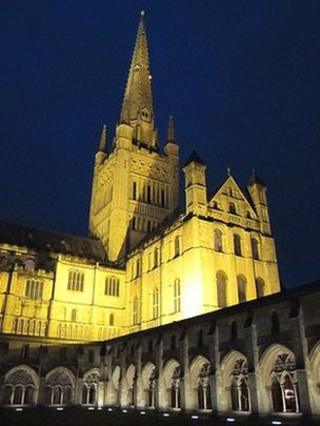 The cloister at Norwich Cathedral has been lit up for the first time thanks to a new lighting scheme funded from a "generous personal legacy".
The lights were switched on at the end of a processional ceremony around the 900-year-old Norman cloister on Sunday.
The lighting installation cost about £200,000. The legacy contribution has not been disclosed.
The scheme is part of a £1m project to replace the cathedral's lighting which is "failing and all needs re-fitting".
The Very Reverend Graham Smith, Dean of Norwich, said: "We've never had lighting in the cloister before. Now it's illuminated you see it in a really different way."
'Rewired and relit'
The cloister, the largest in England, was originally designed to house a community of about 100 monks.
It was used as a walk-way for the monks to move between their dormitories and the cathedral church itself.
Damaged by city roits in 1272, restoration of the two-storey cloister started in 1297 and finished in 1430.
"This is a scheme we've been working on for some years and with the help of a generous personal legacy we've at last been able to achieve it," said Dean Smith.
"It's a milestone in an even bigger project as we've been told the lighting system throughout the cathedral is failing and all needs re-fitting - that's bad news at it will cost a lot of money."
"In the new year we'll be announcing other phases that will see zones in the cathedral rewired and relit so, in the end, it is lit to modern specifications with modern lighting design.
"We're talking to a number of designers as this has to be done in a way that is sympathetic to the building."