Dunkirk boat Lucy Lavers given £100k restoration grant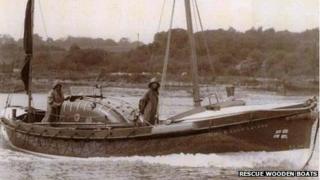 A lifeboat claimed to be the only one of its kind used in the Dunkirk evacuation in World War II has been given a £100,000 grant to restore it.
The Liverpool-type lifeboat Lucy Lavers was used to rescue troops from the beaches of northern France in 1940, charity Rescue Wooden Boats said.
The former Norfolk and Suffolk lifeboat will be restored for Dunkirk's 75th anniversary in 2015.
The Heritage Lottery Fund said the boat was a "significant" part of history.
The yacht-like lifeboat has an engine and sails and was originally built in 1940 for Aldeburgh lifeboat station in Suffolk, before being used at other bases around the East coast.
It will be restored using the workmanship originally used to build it, the charity said.
When completed, it will return to Dunkirk for the planned anniversary celebration in three years' time and eventually be moored at Wells-next-the-Sea in north Norfolk.
Wendy Pritchard, a trustee of Rescue Wooden Boats, based in Stiffkey, Norfolk, said: "We are thrilled to have been awarded Heritage Lottery funding.
"The grant means a great deal to our charity and, more importantly, it means that we can now restore Lucy Lavers to her full potential."
Robyn Llewellyn, head of Heritage Lottery Fund East of England, added: "Lucy Lavers is undoubtedly a significant part of our maritime and wartime history and there are still local people who served on Lucy Lavers and remember her when she was in service."