Great Yarmouth's St George's Theatre opens after delays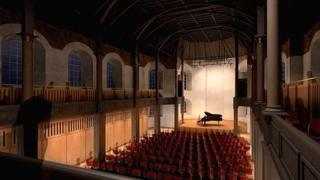 Great Yarmouth's St George's Theatre, housed in a Grade I listed chapel, has reopened following a £7.5m restoration.
The King's Street theatre should have opened in the spring, but delays to the building of an adjacent pavilion led to its postponement.
The borough council has now opened the theatre for shows, with the pavilion scheduled to open in 2013.
The theatre will be operated by St George's Art Centre Trust.
The original chapel, based on a baroque design, was built in 1714.
Delays in opening the theatre occurred when architects and builders disagreed over the new pavilion, being built adjacent to the chapel theatre.
'Magnificent building'
Funding the King's Street project came from a number of bodies including £2.9m from the Sea Change Programme, £2m from the Heritage Lottery Fund and £1.24m from Great Yarmouth Borough Council.
The theatre development is part of a larger £9.3m project to enhance the whole of Great Yarmouth's St George's Plain and parts of King's Street.
Peter Wilson, chair of the leasing trust, said: "After many months of waiting and a long period of indecision, I am very pleased the various parties have come to agreement and allowed the trust to take possession of this magnificent building."
The theatre opened on Wednesday with a performance for children.