Fenland Black Oak: 5,000-year-old bog oak enters kiln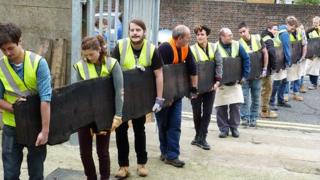 Work has begun to transform a rare 5,000-year-old oak tree, unearthed in a Norfolk field, into a "breath-taking" work of art to be viewed by the nation.
The 44ft (13.4m) Fenland Black Oak was dug out of farmland at Methwold Hythe, near Downham Market, in September.
Ten planks cut from the tree, also known as bog oak, have been placed in a specially built kiln and will be gently dried over seven months.
It is planned the finished sculptural artwork will be returned to the Fens.
Hamish Low, project director for the Diamond Jubilee Black Oak Project, said: "The drying process is the genuine jeopardy.
"We've got to try and retain flat, straight boards, over 44ft. It's incredibly difficult and has taken me more than 20 years of trial and error to work out how to do it - let's hope I've learnt from my mistakes."
'Quite fragile'
It took a team of 20 people to lift each of the 10 bog oak planks weighing about 400-500kg (882-1,100lbs) into the kiln at Stratford, London.
They will be dried at 30C (86F) and shrink by about one third of their thickness.
"They are quite fragile when they are this wet, very flexible and they don't have a great deal of strength so we had to be very careful. But when dry they are immensely strong.
"To retain flat, dry boards ready to plane over such an extraordinary length is very, very difficult, but the rewards will be breathtaking."
Bog oak is generally found buried in farmland and is one of the rarest forms of timber in England.
"Bog oak is very dense, probably the densest truly native hardwood which, unusually for wood, means it very nearly sinks," said Mr Low.
"I'm really nervous, particularly as they are so, so special - I just can't mess this up because they are completely irreplaceable."
Working as the Diamond Jubilee Fenland Black Oak Project, Mr Low will now lead a team of apprentice carpenters, in collaboration with the Worshipful Company of Carpenters, to create a work of art from the dried oak.
"As the oak had spent 5,000 years in the ground and surfaced during the Queen's jubilee year, the final item is being made to commemorate the Diamond Jubilee," said Mr Low.
"We have been asked to ensure Her Majesty is informed of its final location."