Daniel Craig lookalike lives James Bond lifestyle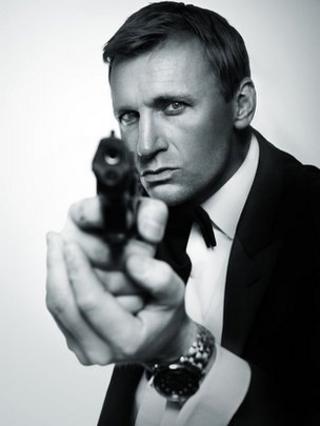 The name is Wright, Steve Wright - but for five years the Norfolk-based photographer has led the life of suave British super spy James Bond.
As thousands flock to the cinema to see Skyfall, the latest film in the Bond franchise, Wright is travelling to back-to-back premieres of the new movie.
The 44-year-old, who lives in Norwich with his wife, Stacy, said: "The whole Bond lookalike idea came to light when Casino Royale was released in 2007.
"Stacy suggested I could get some work out of it, so we sent some photos to an agency for a bit of fun. It was very flattering."
A month later, Wright was on his first mission - being flown on an all expenses paid jet to Monte Carlo for a screening of Casino Royale.
'Icy stare'
He said: "There I was along with a lookalike Odd-Job, Jaws, Sean Connery and Shirley Bassey. I remember standing there thinking 'what am I doing here?"
In five years of developing his Bond persona, which he describes as a mix between Craig's steel and Connery's charm, Wright has appeared at events in Dubai, Abu Dhabi and Berlin.
"It's a great way to see the world. It's possible to make anything up to £2,000 for appearances over a busy weekend - more if the gig is abroad," he said.
"A new Bond release is worth thousands of pounds to me as I'm so busy around the month the film comes out.
"The good thing with a Bond lookalike is that a new film comes out every two or three years and that stimulates more interest."
Wright, who rates Skyfall as "Craig's best", although "a tad long", said he spent hours in front of the mirror getting his pose right.
"When I started off it was more Mick Jagger than Daniel Craig," said Wright, who fits in the lookalike bookings around his work as a commercial photographer.
"Luckily, as I'm a photographer and you see many pictures of yourself, you can perfect the pose. I've had to work on the cold, icy stare."
'More panting than pouting'
Not many lookalikes get to act with their star, but Wright has performed alongside Craig as an extra in Quantum of Solace on the famous Bond soundstage at Pinewood Studios.
"I was in a scene playing an MI5 agent," he said. "Sadly, we didn't get to have a conversation but it was brilliant to end up in a scene with him in the final film - what more could I want?
"It's an unusual life balance because, as Daniel Craig, you you do get treated differently. They [event organisers] always provide me with a minder, a Bond girl and a person to look after you in front of press and photographers.
"You just get transported into a millionaire lifestyle where you wouldn't normally get a look-in.
"I got hired by a millionairess to fly out to St Tropez and recreate the iconic scene from Casino Royale, where Bond walks out of the sea in his blue trunks.
"It was for a birthday and I had to wait in the sea until they were coming from her yacht to the shore and then make the walk to the beach.
"It was all going well until I realised I'd swum out a bit far - so I had to do a fast front crawl to meet them on the shore.
"I was more of a panting Bond than pouting Bond as I climbed out of the sea, but it was all good fun. To be fair, Craig is a bit more buffed than I am."
Fortunately, Wright's wife is supportive of her husband's Bond lifestyle.
"She was the one who suggested that I do it, so she's only got herself to blame if I'm getting lots of female attention - but she's the only Bond girl in my life," he said.