Birdwatching barbers spy on Norwich Cathedral peregrines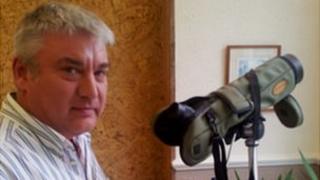 A barbers' shop is offering customers a feather cut with a difference - the chance to watch birds while they wait.
Hiz-Hair in Tombland, Norwich, has set up a telescope so they can watch peregrine falcons nesting on the spire of nearby Norwich Cathedral.
Two adults, called Bobber and Grant, and two young birds are nesting on a platform 250ft (75m) above the ground.
Co-owner Paul Brown said: "Customers like looking at the birds and passers-by even ask to have a look."
The telescope is on loan from a regular customer who is a retired solicitor and keen birdwatcher.
Mr Brown's business partner Paul Johnson said: "He came in one day and we were looking through binoculars at the falcons.
'Don't like sun'
"He said 'I've got a telescope. Do you want to borrow it?'
"He comes and collects it when he wants to go birdwatching, but the rest of the time we have it here."
Mr Brown said: "We've had the telescope on and off for about 18 months.
"We see the birds most days, but not so much in the summer because they don't like sitting in the sun."
The nesting platform was set up in 2011 by the Hawk and Owl Trust, high on the spire to mimic a cliff face, the birds' natural habitat.
The falcons became a popular attraction on the internet after a webcam was trained on them.
Bobber laid four eggs, three of which hatched in May.
The baby peregrines, one of which has since died, were the first to hatch in Norwich for 200 years.
The young birds are expected to fly the nest by next spring to establish territories of their own.