Norfolk church's seven deadly sins painting at risk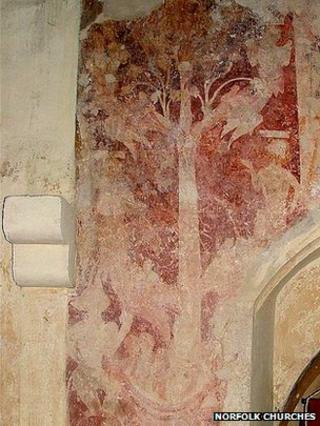 A series of medieval wall paintings depicting the seven deadly sins could be lost from a Norfolk church unless money is found for urgent repairs.
The artwork at All Saints Church, Crostwight, near North Walsham, is at risk unless lime plaster near the painting can be stabilised.
The church also needs repairs to the roof, walls and exterior flint work. It is expected to cost £150,000.
Rev Barry Furness said the church must "be preserved for future generations".
Built in the 13th Century, the Crostwight church painting portrays Adam and Eve, the tree of life with the seven deadly sins hanging as leaves from its branches and Satan with a cauldron of sinners.
Mr Furness said: "I think there's only a handful of these paintings in Norfolk. It's very rare to have them.
"We'll have to raise upwards of half the costs ourselves, so far there's about £13,000 in the pot. English Heritage have said this is an urgent project, but can't help us with funds at the moment."
The church aims to get the work completed by 2014.