Lost Broads reed bed restored by woven bags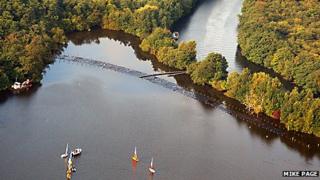 Giant woven bags are being used to restore a reed bed and river bank on the Norfolk Broads that has been damaged by erosion.
Four bags, 8.5m (28ft) wide and 18.6m (61ft) in circumference, will be sunk to create a 170m (558ft) bank on the River Bure at Salhouse Broad.
The geotextile bags and area of water behind them will be planted to help restore the site as a natural reed bed.
The £230,000 project is to be completed in January.
Erosion from boat wash and wind over the past 60 years has caused the land between Salhouse Broad and the River Bure to narrow to 2m (6ft) in places, threatening the strength of the river bank.
Sediment from dredging sites near Wroxham Broad and Decoy Broad is being used to fill in space behind the bags.
William Coulet, from the Broads Authority, said: "It can often be a problem finding places to dispose of dredged material.
"However this is an ideal solution and underlines the fact that sediment should be regarded as a resource rather than waste."
The cost of the work is being split equally between the Broads Authority and the European Regional Development Fund.