Norwich Asda store and retail park plans resubmitted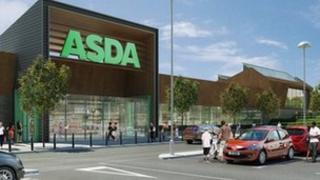 Plans for a second Asda supermarket and a retail park in Norwich have been resubmitted without any changes, despite them previously being rejected.
Norwich City Council's planning committee voted 5-4 against the proposals on the former Bally Shoe factory site, on Hall Road, last month.
Asda said the planners' concerns had been addressed in a covering letter.
Council leader Brenda Arthur criticised the planners' original decision, which meant the potential loss of 400 jobs.
Asda plans to build a superstore, pub, gym, restaurant and business units on the brownfield site.
Stephen Little, Green councillor at Norwich City Council, was one of the planners that opposed the firm's plans.
In September he stated he was not convinced of the scale of the jobs promised and was worried that local shops' trade would be affected.
An Asda spokesman said more than 90% of people who were consulted on the proposals were in favour of the store and the company was "surprised" and "disappointed" at the planning committee's verdict.
Council leader Brenda Arthur, Labour, said she supported the plans.
A new public consultation will run until 7 November.
The earliest the planning committee can review the application is on 6 December.