King's Lynn hospital accused of neglecting cancer patient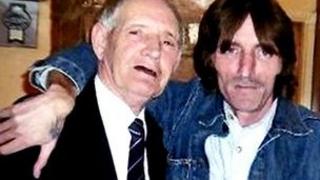 Relatives of a cancer patient denied fluids at a Norfolk hospital have made an official complaint he was not given care he needed at the end of his life.
Andy Flanagan, 48, was being treated for pancreatic cancer at the Queen Elizabeth Hospital in King's Lynn.
After a cardiac arrest staff stopped giving him fluids and wrote on his medical records "do not resuscitate".
The family said they only discovered this when he came round during a visit. The hospital said it could not comment.
The hospital put Mr Flanagan back on a drip when he revived but the family decided to bring him home so they could look after him themselves.
Doctors had given him days to live but he did not die until five weeks later, said the family.
Carpet fitter Mr Flanagan had been put on an end-of-life care regime and the family was told he had brain damage.
He was placed on the Liverpool Care Pathway, a framework for medical staff widely introduced by the NHS in 2004, family members said.
This focuses on patients in their final days of life and can lead to food, drink and medicine being withdrawn.
Lesley Flanagan, his sister, said the family had been sponging his face and he had strained to take moisture.
Chance to say 'goodbye'
When she visited him her sister Kathy insisted that his sheet should be changed and was speaking to him.
Kathy Flanagan said: "I cleaned his mouth and realised he was desperately thirsty and I started to give him oral fluids with a pipette.
"I have been a nurse for 39 years and I knew my brother wasn't dying at this time."
Lesley Flanagan took up the story and said: "When a nurse asked if she could turn him over he answered "yes".
"It was a real shock because we had been told he had brain damage.
"It was like a miracle - someone coming back from the dead.
"We got him back home and he laughed and joked with us, sat in the garden and played with the kids."
The Queen Elizabeth Hospital in King's Lynn said the case was subject to an official complaint so it could not make any comment.
Mr Flanagan died in August and his family always knew he might not make it.
But they said the extra month was a chance for all of them to say 'goodbye' properly.
His father John Flanagan said: "I think they do not want to waste money on what they think is a waste of time.
"But if you're 48 years old it's not a waste. We didn't want to let him go."