Norfolk PCC candidates 'facing more cuts'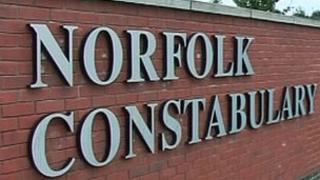 Priorities in dealing with cuts to police funding have been highlighted by the prospective candidates for the police and crime commissioner post in Norfolk.
Elections will be held in November to choose police and crime commissioners (PCCs) who will replace police authorities currently in charge of 41 forces in England and Wales.
The PCCs will be responsible holding their forces to account. They will also be able to hire and dismiss the chief constable and set the force's budget.
Norfolk Police's budget for 2012 was set at £145m by Norfolk Police Authority.
The constabulary, which has about 1,500 officers, has been put under pressure to save £25m between 2011 and 2014 and it aims to reduce officer posts by between 150 and 250 over the period.
Instead of opting to take a government grant, the authority increased the council tax precept towards the police in February to 3%, which saw about a 0.4% rise in the public's tax bill.
It said the move was to protect as many services as it could throughout the budget cuts.
The force hopes to save at least £9.8m by merging its support services, including human resources, media and communications and estates and facilities, with Suffolk Police.
Conservative candidate Jamie Athill said: "The PCC is not just there to cut the cake but also to make the cake - working for new ways to fill the gaps.
"So if it turns out - and only the wildest optimist thinks it won't - that in the next spending round [there are further cuts] then we need to think of clever and effective ways of filling the gaps to keep the best possible level of services.
"It seems clear to me the suggestion of raising precepts [the police's contribution to the council tax bill] has to be preceded by a full campaign of public consultation.
"As a council tax payer I am not averse to increases in council tax as long as I understand what the increase is for.
"The bottom line is it is not just about balancing the books, it's what you get out of them."
Former Norfolk Police Authority chairman Stephen Bett, an independent candidate, said: "We had to find £24m of savings after already taking £19m out of back office. It's an extremely difficult job.
"I think the next CSR (comprehensive spending round) will see even more cuts. I suspect cuts of between 18% and 20%."
He said working with other forces was one way cash could be saved.
"I was involved from the very start with collaboration with Suffolk. That is going well.
"We can do a little more. We will have to work with other forces," he said.
He added the force would also have to work more closely with voluntary and health organisations such as in dealing with mental health issues.
Liberal Democrat candidate James Joyce said: "Everybody is suffering. Everybody realises we have been living beyond our means, so painful decisions have to be made with police as with everything else.
"But it is not a case of cuts for cuts sake, we need to make sure what resources we have are employed as efficiently as possible.
"At the moment the police authority has been taking money from back office functions and spending on the front-line policing. We must make sure money is spent on people."
Steve Morphew, the Labour candidate, said: "I want to focus on people's peace of mind and feeling safe on the streets is crucial to that.
"Cuts are increasing the fear of crime and we are bound to also see an increase in incidents of crime. Cuts mean police are less visible.
"I would take a strong line against cuts in spending, a lot of lobbying needs to be done.
"I would also be prepared to put council tax up. I am going to pledge to limit council tax increase in a Band C house to no more than 10p per week (£5.20 a year) which is manageable for most people - who have said they are prepared to pay a bit more.
"This will give us time to look at what economies need to be made. We know the cost of crime is considerable."