Car crashes into Norfolk teenager's bedroom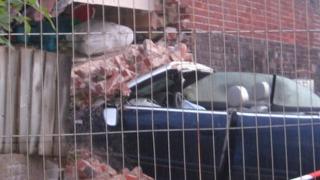 A Norfolk teenager had a narrow escape after a car crashed into his bedroom.
The A4 Audi remains embedded in the house in Beech Drive, Strumpshaw, near Norwich, until structural engineers assess damage to the house.
Police were called just before 02:00 BST on Sunday. The 15-year-old was treated for minor injuries at the scene.
The driver, 32, was arrested on suspicion of drinking and driving. He has been bailed until 25 November.
There were four people in the car and one of the occupants was taken to the Norfolk and Norwich Hospital for treatment for a minor head injury.