Tony Martin welcomes increased power to protect home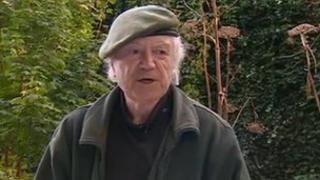 A man who killed a 16-year-old intruder at his home has welcomed government plans to give extra legal protection to householders who attack burglars.
Tony Martin, who was jailed in 2000 for shooting Fred Barras at his Norfolk farmhouse, said people should not "live in fear in their home".
He said he would be willing to brandish a chainsaw to defend himself.
"I'd let it run and I'd show it to him," he said. "If he decided he was going to have me, I'd let him have it."
Mr Martin was released from prison in 2003 after his murder conviction was reduced to manslaughter. He also injured 29-year-old Brendan Fearon in the same incident.
At the Conservative Party conference, Justice Secretary Chris Grayling said "grossly disproportionate" force would still be against the law in England and Wales, but the bar would be higher than the current "proportionate" force test.
Mr Martin said: "We're supposed to live in a democratic society - maybe what's going on today is they're trying to put a bit of decency back into democracy."