Great Yarmouth holiday parks plan for £20m investment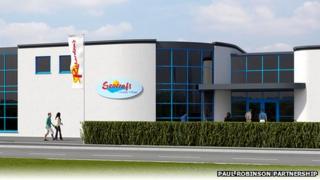 A Norfolk holiday company plans to invest £20m in new tourism accommodation near Great Yarmouth.
Richardson's, which owns the Seacroft and Hemsby Beach holiday parks, plans to build a 260-room hotel as part of a 10-year redevelopment scheme.
If the proposal is given permission by the borough council the work is scheduled to begin in late summer 2013.
A spokesman for Richardson's said the scheme would "add value" to the area for tourists and create jobs.
Justin Ettridge, general manager at Richardson's, said: "We want to invest in Hemsby and show it's a great place to come for a holiday. People's expectations are moving higher and we want to match that.
'Terrific idea'
"It's a big investment... but we want to develop our accommodation which will deliver a better experience for our guests add value to the area. We want to bring new people to Hemsby and Seacroft."
He said it was "too early" to say how many new jobs the project will create but at a minimum they would be able to extend their 50-plus seasonal staff contracts to all year round employment as they would not have to close off-season.
Although the plans, which also include a new caravan park, have yet to gain approval the investment news has been welcomed.
Trevor Wainwright, Labour leader of Great Yarmouth Borough Council, said: "It will bring a huge amount of investment in to Hemsby.
"A hotel would be excellent news for the borough and the jobs that would be created in the construction and running of it - it's a terrific idea."
Charles Reynolds, a founder member of the Greater Yarmouth Tourist Authority and former councillor for tourism, said he also welcomed the plans.
"I think it's unbelievable news and it shows the Richardson's family's commitment to tourism and Hemsby after a difficult season."
A decision on the plans is expected in December.