Yarmouth carriage boss with no driver licence keeps job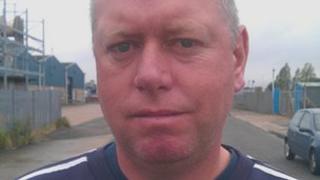 The driver of a horse-drawn carriage who has worked for the past 25 years at a Norfolk seaside resort without a car driving licence can keep his job.
Fred England, 43, who carries passengers in Great Yarmouth discovered he was breaking the law when he renewed his hackney carriage licence.
Borough council officials said new laws meant he had to pass a driving test.
Councillors voted on Thursday night to make an exception as the new law was judged to apply to new applications.
Mr England said on his Facebook page, which had collected nearly 600 followers, that he was delighted to be able to carry on a family tradition as a Great Yarmouth landau driver.
'Unblemished record'
But he must now renew his licence "assiduously on time" each year or else he would be regarded as a new applicant and would need to get a driving licence by passing the test.
New laws state and anyone applying for a horse-drawn hackney carriage licence must have already passed a test to drive a powered vehicle and own a DVLA licence.
Mr England represents the third generation to run the business from his family who set up a campaign and petition for him to be excused from the rules.
He first transported passengers along the seafront at the age of 18, at a time when his grandfather, father, mother and brothers were also involved in the business.
John Holmes, chairman of the licensing committee at the Labour-controlled borough, said: "He has been a driver on Great Yarmouth seafront for the past 25 years and is the only one, we understand, who has never had a driver's licence.
"We took into account his unblemished record and as it is within the remit of this committee to make the decision to grant him a hackney carriage licence we've done that."