Sprowston and Old Catton house development plans on show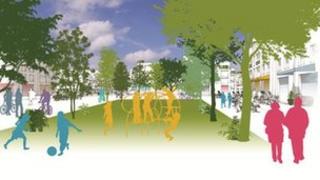 Plans for more than 3,500 homes on agricultural land north of Norwich are due to go on show to the public.
Developer Beyond Green wants to build on land near Sprowston and Old Catton, with a new country park included at Beeston Hall.
David Hook from the Campaign to Protect Rural England (CPRE) said the development was "absolutely excessive".
The plans are on show at the Diamond Centre, Sprowston, on Saturday and Sunday between 10:00 BST and 16:00 BST.
Beyond Green says the new community would be created over the next 20 years.
About one third of the houses would be affordable homes for local people and that 1,000 jobs could be created because of the new community, the company said.
The development would also provide public open and green spaces, work, schools, healthcare, shops and leisure facilities.
There would also be 200 construction jobs each year during the construction period.
Neil Murphy, director of planning at the company, said that they were not planning a new town.
"It really isn't supposed to be a new town in the sense that many people think of it.
"It's supposed to be a proper new place... by that we would say [like] traditional towns.
"They have jobs, they have shops, they have public services right... in the centre with housing."
Mr Hook, chairman of the planning group for the CPRE said: "I see the Beyond Green proposal for 3,500 homes to be a nasty part of a nasty picture.
"It's absolutely excessive when compared to local demand. It will have an enormous effect on so many things - cars, house building. The attractiveness of the countryside will be affected.
"It's going to homogenise Norwich - is that what local people really want?"
An outline planning application is expected to be submitted to Broadland District Council next week.