Georgia Keeling 'failed by NHS' after meningitis missed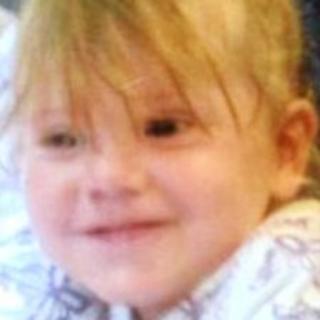 A two-year-old girl who died after meningitis was wrongly diagnosed as swine flu was failed by emergency services, a coroner said.
Georgia Keeling, from Norwich, died at the Norfolk and Norwich University Hospital on 4 August 2009.
A paramedic sent an ambulance away thinking the girl had swine flu.
Returning a narrative verdict, Norfolk coroner William Armstrong said a failure to send her to hospital had reduced her chances of survival.
Dr Jeffrey Perrin, an intensive care consultant, told the second day of the inquest in Norwich that "red flag" warning signs had been missed.
National pandemic
Dr Perrin added it was impossible to say whether an earlier admission to hospital would have saved Georgia's life but said her chances would have been improved.
The toddler was first seen by paramedic Patricia Perfect at about 12:00 BST on 4 August 2009, following a 999 call.
Georgia died from a meningitis-like infection following the incorrect diagnosis at the height of the 2009 national pandemic of swine flu.
The inquest in Norwich heard that paramedic Patricia Perfect had examined her at home but sent an ambulance away because it was "another case of swine flu".
Georgia's mother Natasha Keeling said she had initially felt relieved her daughter had been diagnosed and given the swine flu medication Tamiflu.
But the girl's condition continued to deteriorate and Ms Keeling again dialled 999 at 16:00.
Georgia was pronounced dead at the Norfolk and Norwich University Hospital at 16:24.
A post-mortem examination found she died of group A streptococcal meningitis, a very rare form of the disease.
Miss Perfect earlier said she regretted the incorrect diagnosis but said "most clinicians" would have made the same mistake given the unprecedented circumstances.
'Inadequate' examination
"Swine flu was at the forefront of everybody's mind," she said.
The East of England Ambulance Service has already apologised to Ms Keeling and Georgia's father Paul Sewell. In a statement it admitted "shortcomings".
Returning a narrative verdict, Mr Armstrong ruled Georgia died following an "erroneous diagnosis" and the fact she was not immediately admitted to hospital had reduced her chances of survival and contributed to her death.
He said: "She died from a condition that was previously undiagnosed and the examination by Miss Perfect was inadequate and deficient and there was a failure to recognise the severity of her condition.
"Is it possible Miss Perfect was over-influenced by the fact there was at the time a prevalence of swine flu?
"There is no doubt at all that Georgia should have been sent to hospital immediately and she would have had a better chance of survival."
He added the East of England Ambulance Trust had already taken action to reduce the likelihood of future mistakes.