John Peel legacy lives on in Festival of New Music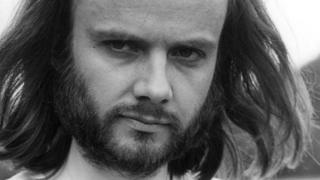 It has been eight years since new music lost one of its biggest champions.
But on the latest anniversary of his death, John Peel's legacy looks like it is still proving "so hard to beat" - as his favourite record would proclaim - with a first ever festival in his name.
Sheila Ravenscroft, the broadcaster's widow, gave the John Peel Festival of New Music its blessing last year.
Now, 100 of the best new bands from East Anglia and around the world are preparing to plug in their amps and perform to crowds at venues throughout Norwich.
And perhaps fittingly, two of Peel's favourite bands will open the festival.
"The one gig that I definitely will be going to is The Undertones," said Ms Ravenscroft, patron of the festival.
"It was just incredibly good of them to come and do it and they're excited. It's a good line-up and they're going to be playing together [with The Fall] and I would imagine they've never played together before."
'Draws attention'
Alongside the former Radio 1 DJ's beloved bands, other hotly-tipped artists performing at the festival, from 11 to 13 October, include Totally Enormous Extinct Dinosaurs, Liars, Palma Violets, Bearsuit and, rather aptly, Public Service Broadcasting.
Proceeds from the launch gig will go towards the renovation of the John Peel Centre for Creative Arts in Stowmarket, Suffolk, where Ms Ravenscroft still lives amongst the hundreds of records that John kept.
She said: "If the festival draws attention to new bands and gets people listening to a variety of music, then it's a good thing, whether you use John's name to do it or not.
"John was always really the champion of new and unheard bands, so I suppose it draws attention to the festival and that's good."
Despite nearly a decade passing since Peel's death - and the ways that people listen to music changing enormously compared to the 1960s - when his dulcet tones first graced the airwaves, Ms Ravenscroft said she is surprised that so many new bands still look up to him as a musical icon.
"I think a lot of young people will probably never have heard his name or indeed know who he was or what he did," she said.
"But it is a strange thing because people who are starting up bands now don't necessarily connect John with new music, because how would they? They wouldn't know him. But it does seem to work."
'Ears need opening'
The couple's son Tom Ravenscroft landed his own BBC 6 Music show two years ago, but Ms Ravenscroft said it was a "terrible shame" that not more people had stepped-up to the radio pulpit since Peel died and broadcasted experimental and underground music to the masses.
"I know music is different now - you only have to put your computer on and you can hear and download all sorts of stuff, but you need someone to draw your attention to it in the first place," she said.
"It wasn't just new music, John opened people's ears to stuff from years gone by that they would never have known about, which I think a lot of people were grateful for.
"It's sad because I think [the music industry] just doesn't have the same excitement as it should do, but maybe I'm just missing out on something that's going on and my ears need opening up again."
Adrian Cooke, the festival's director, said he hoped the gigs would go some way to recreating the influence that Peel once had with his radio show and encourage more people to listen to something new.
"You might see some things that you don't like, you might see some things that you really like that you had never heard of, but that's very much in the spirit of one of John Peel's shows," he said.
The John Peel Festival of New Music, part of the Norwich Sound and Vision conference, will see 50 bands perform at 10 venues across Norwich.