James Bond 007 autogyro pilot honoured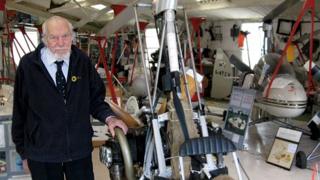 A record-breaking autogyro pilot from Norfolk, who flew as a James Bond stunt double, is to be honoured for his lifetime contribution to aerospace.
Retired Wing Cdr Ken Wallis, who lives near Dereham, will be given the award by the Guild of Air Pilots and Air Navigators (GAPAN) later this month.
He said: "This award is a great honour, but at only 96 I'm just a beginner."
Mr Wallis holds the current record for level flight in a one-piston engine autogyro over 3km at 129mph (208kmh).
Speaking at the time of his 96th birthday in April he said it would be a "laugh" to better his record, set in 2002, and still plans to do so.
"I've got aircraft here that can still break all sorts of records, but the one I'm thinking of having another go at is the 3km speed record," he said from his home at Reymerston Hall.
"I've been over 140mph in the same aircraft, but it's a matter of getting the right weather, official observers, time-keepers and the paperwork all in place. Doing the actual flight is the easy bit."
Little Nellie
Paul Tacon, GAPAN's clerk of the guild, said: "Ken is receiving the prestigious Guild Award of Honour.
"This is awarded for an outstanding lifetime achievement and enduring contribution to aviation. Former winners include Neil Armstrong.
"Ken's being awarded this principally for his development work - and many world records - with autogyros, but also recognition of his lifelong contribution to many other aspects of aviation."
Mr Wallis made his first solo flight at Cambridge in 1937 in a de Havilland Gipsy Moth.
He completed 24 wartime missions over northern Europe in Wellington bombers, before spending 20 years engaged in armament and weapon research.
Mr Wallis, president of the Norfolk and Suffolk Aviation Museum, keeps 18 autogyros at his Norfolk home, three of which are ready for flight.
He has appeared in a number of feature films, including doubling for Sean Connery as James Bond in the 1967 film You Only Live Twice.
"We made something like 75 flights, around 44 hours in the air for seven-and-a-half minutes on screen, but that's film-making," he said.