Great Yarmouth carriage owner told to pass driving test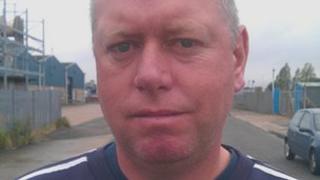 For 25 years Fred England has taken passengers along Great Yarmouth seafront in his horse-drawn carriage.
But when he attempted to renew his licence, Great Yarmouth Borough Council told him a law change meant he needed to pass his driving test first.
A petition has been set up calling for the 43-year-old - the third generation of his family to run the business - to be excused from the rules.
Mr England's case will be heard before the licensing committee on Thursday.
He said he first transported passengers along the seafront at the age of 18, at a time when his grandfather, father, mother and brothers were also involved in the business.
But after he went to renew his annual licence at the town hall last week, he was told he would need to pass his driving test before taking his horse along the seafront again.
"If I did have a driving licence, would that make me a better driver? As far as I'm concerned, no, it wouldn't," Mr England said.
"Why should I be forced to do that? I can still try for my test and I did try years ago - I only tried once and I failed and I didn't bother after that because I couldn't afford it.
"I just feel like I'm being forced into doing it."
'Legal requirement'
Great Yarmouth Borough Council said: "Several years ago the council introduced a pre-requisite that all new second class Hackney carriage drivers [landau drivers] would have to hold a car driver's licence.
"However, it was agreed that any existing landau drivers be given 'grandfather rights' and would not be required to hold a car driver's licence.
"Following recent legal advice, it has come to light that it is a legal requirement for a Hackney carriage driver to hold a car driver's licence.
"Therefore, officers requested all landau drivers to produce their car driver's licence when renewing their Hackney carriage driver's licence this year.
"All but one of the landau drivers in Great Yarmouth holds a driver's licence."
Mr England said he would hand in a petition, signed by fellow Yarmouth landau drivers and members of the public, to the council on Thursday.