Norfolk Broads: New warning over killer shrimp threat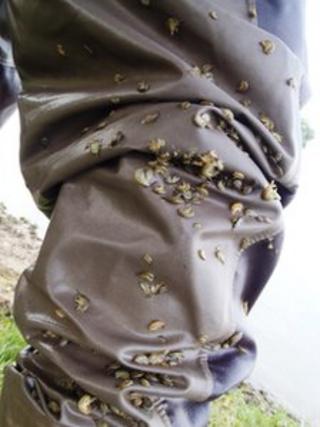 Users of five Norfolk Broads are being urged to take precautions to stop them being invaded by "killer" shrimps.
They are being asked to check, clean and dry boats and fishing equipment to prevent the shrimps entering the Trinity Broads, near Great Yarmouth.
The shrimps were first found at Barton Broad in March, and have since spread to the River Ant and Wroxham Broad.
The Broads Authority said it was vital they were kept out of the "high conservation value" Trinity Broads.
New predator
The killer shrimp is a non-native species that feeds on damselflies, small fish, water boatmen and native freshwater shrimp, threatening the Broads' eco-system.
The Broads Authority has appointed Will Burchnall as its new wetland biosecurity officer to help stop the spread of the shrimp.
"Because the Trinities are isolated from the Broads system it is possible to protect them from the advances of this new predator but only if everyone is acutely aware of the danger it presents and takes every precaution not to transfer it from other waterways," he said.
Mr Burchnall asked for everyone using other waterways to routinely check any equipment, including boats, clothing and fishing gear that, has been in contact with the water.
They should wash it, return any organisms to the water from which they came, and dry out the equipment for at least 48 hours.
Anglers are also being asked not to use keep nets as shrimps tend to gather in them.