Great Yarmouth Borough Council staff apply for redundancy in the face of cuts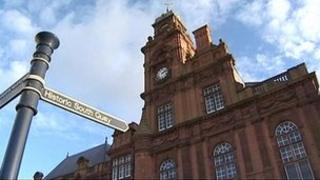 About 55 staff at a council in Norfolk have applied for voluntary redundancy as officers look to save £10m over three years.
Great Yarmouth Borough Council said changes in government funding meant it had to cut costs from 2014.
Richard Packham, managing director of the Labour-run council, said it wanted to increase revenue in order to keep staff and maintain services.
The council's budget of about £16m for 2012/2013 is set to be approved later.
Mr Packham said it had lost a significant amount of funding it had been receiving for being an area of high deprivation.
He said the savings would not only come from reducing staffing costs.
'Everything reviewed'
"We see scope with some of our major contracts perhaps to renegotiate, and we see scope to raise additional income in some areas."
Brian Walker, councillor for resources, said that every service level was to be reviewed.
He said: "We've got to save as much as we can where we can.
"The more we save on the smaller cuts, the less we'll have to save on the big ones and the more staff we'll be able to keep."
The Conservative MP for Great Yarmouth, Brandon Lewis, believed there were other ways for the council to save money.
"What I'm keen for them to do is look at sharing services with other authorities," he said.
"They can save on staffing and therefore save on taxpayers' money and still protect the front line."
The council is meeting on Tuesday evening to discuss the savings.