Norwich Asda store and retail park plans rejected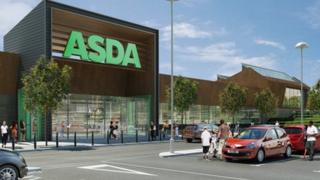 Plans for a second Asda supermarket and a retail park in Norwich have been rejected.
The store and retail park, to have been built on the former Bally Shoe factory off Hall Road, would have been known as Harford Place.
Business units, a restaurant, a pub and a gym were included in the plan.
But Norwich City Council's planning committee rejected the proposal. Asda said it was "extremely disappointed" by the decision.
"The development overall would have created up to 400 new jobs in a deprived area of the city and helped to regenerate a site which has been derelict for years," the spokesperson said.
"This development was also a "shovel ready" project that could have commenced next year, creating further employment in the construction supply chain."
The planning committee voted 5-4 against the proposal.
Labour councillor Brenda Arthur, leader of the council, said the development site was in an area of the city where "people need jobs and good facilities".
"I'm terribly disappointed that some members of the planning committee felt they could not support an application that would have brought 350 jobs to the city, a community facility, a gym, provision for start-up businesses, and a supermarket providing affordable food and clothing," she said.
"We want to boost the local economy and bring more jobs to the city.
"This seemed a positive way of doing just that both in terms of building the facilities and then having on-going job prospects for a large number of people."