Farming 'at risk' from lack of well-trained workers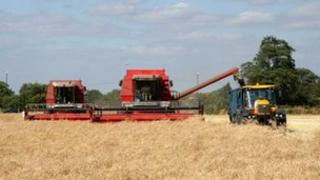 A shortage of well-trained workers is threatening the future of farming in the East, industry figures have warned.
Easton and Otley College has trained generations of agricultural workers but said not enough young people were entering the industry.
It said there was a particular shortage of people with the technical skills to operate complex farm machinery.
The National Farmers Union (NFU) said it was working with employers and colleges to address the shortfall.
Easton and Otley College was formed this year by the merger of two long-established agricultural colleges in Suffolk and Norfolk.
Martyn Davey of the college said: "We have seen the age of farmers getting older and older and we recognised this at Easton College probably 20 years ago.
"If we don't have more technicians coming in and being trained up to management level, then obviously the industry would eventually fold and food prices would go through the roof."
'Huge challenge'
He said the college had been working on courses to attract more young people into agriculture, but that other industries tempted many away.
"There's IT and finance and things like that which are seen as very high-paying, successful-type careers whereas agriculture can be a really good career," he said.
Pamela Forbes, NFU East Anglia regional director, said: "Agriculture is still a major employer in the East of England, with 40,000 people directly employed within farming and many more jobs supported by the industry, but we face a huge challenge in finding the farmers of tomorrow.
"It's estimated that an additional 70,000 farmers and farm workers will have to be recruited nationally in the next five years to meet the demand."
The union is promoting careers in agriculture to students through its Farming Delivers campaign.
The issue of recruitment is due to be discussed at a meeting of Suffolk County Council on Thursday evening.
The council has bid for more than £1m in government money to help attract young people into the industry and develop training packages.